EarFun Free 1S - Black
4-Mic ENC Wireless Earbuds with EarFun Audio APP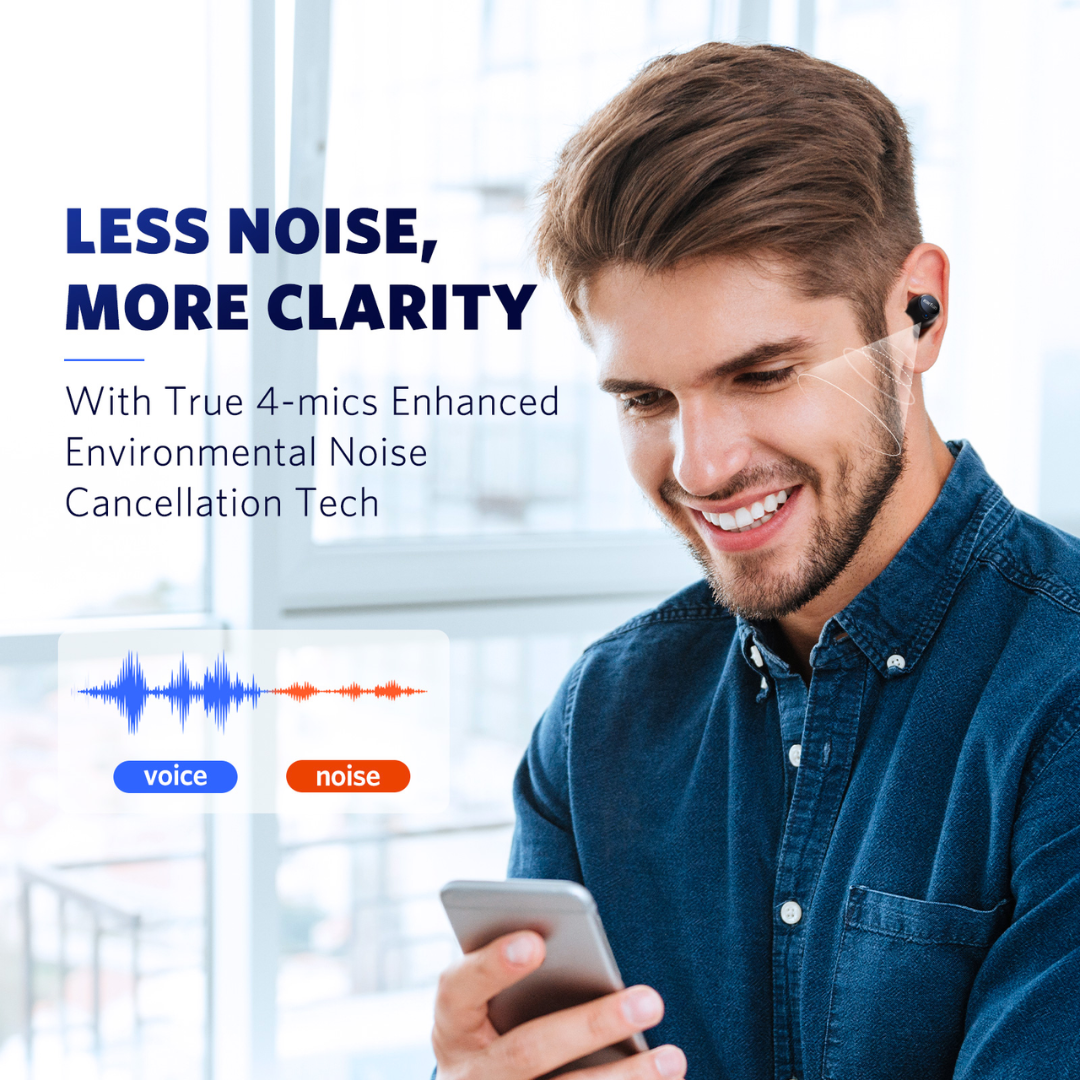 Product Feature:
* CES Innovation Award Honoree
* EarFun Audio APP Support
* Superior Sound with 7mm Dynamic Composite Drivers
* Enhanced 4-mic array for crystal clear noise-canceling call
* IPX7 Waterproof with Sweatshield™ Technology
* Low Latency Game Mode for Better Video & Gaming Experience
* Single Earbud Mode-Right or Left
* All-in-one Volume Control
* Fast charging, 10 Min Charging = 2 hours Play Time
* 30-Hour Battery Life: 6- hour play time + 24 hours with Charging Case
* Wireless charging and USB-C charging
* Secure & Ergonomic Fit
* Activate Voice Assistant
About this item
🎧More Bass & High-Quality Stereo Sound.⭐CNET Best Budget Earbuds⭐"The EarFun Free 1S has surprising good sound for their low price". Powered by 7mm composite dynamic drivers, EarFun Free 1S wireless earbuds present a powerful, balanced and wide sound range with deep bass, stunning treble and clear mid, connecting you with the music world.
🎧[True 4 Mics ENC Tech for Crystal Clear Call] Equipped with 4 enhanced mics to passively cancel 80% background noise, the Bluetooth earbuds will sure voices are transmitted crisply and clearly so that you and the caller can hear each other better. With these small wireless earbuds, truly free hands, let voice calls more free, more clear and easier to operate!
🎧[Support EarFun App for Custom EQ and more] With EarFun APP, this wireless headphones allow you to switch between different EQ presets, customizing the sounds for your preferences. Besides, it can take complete control of your earbuds, adjust touch controls, disable the volume control, upgrade firmware, showing the battery life and more. If have trouble with connecting the EarFun APP, please find us for a solution asap.
🎧[Sweatshield IPX7 Waterproof & Wireless Charging] With our own patent proprietary-- Sweatshield Technology, the true wireless earbuds are IPX7 waterproof to resist moisture from sweat and weather. To avoid tedious charging cables, our wireless headphones support wireless charging support, making household electricity more convenient and safe!
🎧[Super Lightweight Ergonomic Design for All-day Comfortable Wearing] A single earbud weighs only 4.4g to relieve pressure on your ear canals, EarFun Free 1S true wireless earbuds are ergonomically designed for easy carry and extra comfort. Includes 4 size soft silicone ear tips for you to find the right fit.
🎧[Game Mode & 30H Long Playtime] With low latency of 100ms brings better game and video experience, making your game more smooth. The wireless earbuds deliver 30 hours long battery life and 6 hours of listening time with a single charge. If the power is running low, a quick 1.5 hours will offer you the full charge. NOTE: Turning on the game mode will shorten the connection distance. We suggest you turn off the game mode when you use the earbuds for music.